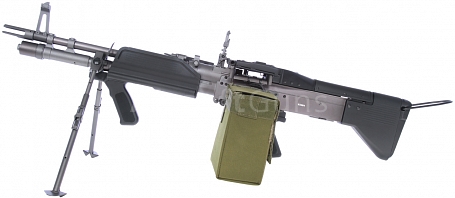 Tweet
M60E4, MK43, A&K
Automatic electric airsoft gun (AEG). Replica of model M60E4/Mk43 Mod 0 [A&K MK43].
Automatic electric airsoft gun (
AEG
). Replica of model M60E4/Mk43 Mod 0 [A&K MK43]. It is a modernised model successfully executed an American machine gun in an abridged version, which is used primarily by the US Navy units. The entire weapon is characterised realistically processing all details extremely to a high proportion of metal and consequently a high weight. Parts such as adjustable bipod, carrying handle, rear sights, magazine holder, sling swivel and folding shoulder buttpad are steel. Solid polymer is only used on the handguard front handle, pistol grip and the stock. Other parts like front sight, outer barrel, tube on
GAS
consumption, body and cover of slide are from metal alloy. As a real machine gun it is fitted with a folding bipod and comes complete with electric box-like magazine (2 feeding modes). In the
GAS
tube under the barrel is installed electronics MOS FET and a potentiometre, which can be adjusted rate of fire.
Metal massive gearbox is often referred to as a "brick" contains high quality steel gears, precision bearings 8 mm (ball) at M100 spring, metal spring guide, reinforced cylinder head and the vacuum piston head. In the base willl even accomdate the metal
Hop-Up
chamber from one piece and barrel without additional finishes with an insidediameter of 6.08 mm. Includes a plastic cleaning rod and xhi-cap electric magazine at 3500 rounds of
BBs
.
| | |
| --- | --- |
| - notice - | Battery and charger are not included. |
| AEG Variant (EBB/NBB) | NBB |
| Approximate Range | 50 m |
| Bearings | 8 mm, ball bearings, metal |
| BlowBack | No |
| Caliber | 6 mm |
| Connector Type | Tamiya Mini |
| Fire Mode | safe/full-auto |
| Gearbox Version | metal version M60 (8 mm) |
| Gun Length | 940 mm |
| Gun Weight | 6,8 kg |
| Hop-Up Perform | adjustable hop-up |
| Inner Barrel Length | 460 mm |
| Magazine (Lowcap/Midcap/Hicap/Xhicap) | xhi-cap |
| Magazine Capacity | 3500 BB |
| Motor Type | Short torque |
| Motor Variant | Short |
| Muzzle velocity the measured | 100 m/s [328 fps] |
| Recommended Batteries | Type CQB (9.6V, 2000mAh) |
| Recommended BBs | 0.20 - 0.23 - 0.25 g |