TOKYO MARUI HI-CAPA 4.3
14. 07. 2006
For my pleasure Tokyo Marui recently spewing one gas powered gun after another and still interesting models that are for extensive portfolio Berrets and Glocks great variegation of the airsoft market ...
After a souped still unsurpassed HI-CAPA 5.1 come interesting SIG Sauer P226 and began to spread the news about the release of our new army M1911. The backup should be (after a bit of exotic handbag G26 and G26 Advance) too classic Glock 17. But both guns surpassed compact variant flagship HI-CAPA series under the name HI-CAPA 4.3 Tactical Custom.
Just like its older and bigger sister, the four-three bears the Hi-Kick & amp; Hi-Grouping so pedigree will be absolutely fine. What it actually differs from the five-one? At first glance, more compact, more massive (but shorter) slide, the drums tap and barrel in black, abbreviated "beaver tail" palmar fuses and shorter stack without overhanging sport plastic feet, which technically means a reduced volume of the GAS tank and the smaller capacity ammunition. But I see, why not to review traditionally - from box :)
THE OVERALL IMPRESION
After that amount GAS powered guns not surprise me, that Tokyo Marui is one of the companies that care not only the product itself but also that in what is being sold - that is packaging. Black box BlowBack guns has always attracted its elegance and admiring their appearance, I will delay the moment when gonna fold the top cover of the box and watch what hides in its interior.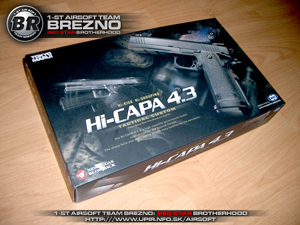 And really - it was worth it. Matte black beauty compact design is a feast for the eyes. Overall, the impression of massive way, in a modern angular shape of the slide with a rough grooving in front and rear, where absent front recess known from version 5.1 Gun body ends flush with the slide and with the integrated rail for mounting tactical accessories enhances the impression of robustness. Practical combat trigger guard is the same as the five-one, but conceals a new shortened trigger. Often discussed and oversized magazine catch also underwent changes - smaller, more coincident with the surface of weapons and unwanted discharge of magazine would be in four-threes not repeated. Identical hilt conceals shortened magazine that holds three BB's less than the older sister - that istwenty-eight and also a little less GAS. The magazine is shortened by only projecting sports shoe, so the mutual compatibility is guaranteed.
Also changed appearance safety features - palm fuse lacks "artistic twisting" coclusion, is shorter and there there is no capture gun for clothes or housing cover. Fuse trigger lost its great wings, and worst of all - about their right counterpart - HI-CAPA 4.3 is not "user-friendly" for us left-handers.
For the safest possible draw have been changed of shape major sporting sights too, which are now smaller and more ergonomic. Also drums cock got more tactical radius. The entire weapon design was changed so that it is in full compliance with the sub-title TACTICAL CUSTOM.
BLACK SUITS HER
The entire weapon is converted in matte black, imitating brunished surface. Barrel and a lightweight drums cock are too black. Lower part of body weapons, magazine catch, the slide, trigger fuse, fuse palm, drums cock, sights and magazine - all metal parts are by their finish complement each other with plastic parts. Nowhere any offsets, seams or imperfect joints. The only drawback of the black garb of a new weapon strikes the eye when viewed from the front in the barrel - 6 mm inner barrel direct shines in a socket outer barrel. This problem can easily remove with paint or black permanent maker for CD.
HEAVY CALIBER
Despite the fact that a compact four-three is nearly two and a half centimeters shorter than her grandmother, you will not to have the feeling that you missed anything in your hand. With a weight of 850 g and with its massiveness leaves no doubt that this is really about high caliber. Gun fits in your hand well, despite not very ergonomic handle against original concept. Palm fuse not interfere, fuse the trigger is within easy reach of an inch (left-handers have a little unlucky, but it's not quite as bad, if I should buy sharp weapon definitely the fuse can not miss for left-handers).
Double-breasted large metal magazine with a capacity of 28 BB's can be filled in several ways. Particularly manually through the upper neck of the magazine shaft, the same way it starts and with the speedloader, that it takes a little practice - neck is quite stiff and BB's therein do not go like clockwork. But speedloader utilizes in carrying through the hole extended shaft on the tray. GAS filling is smooth, but I suggest to use a gasket cut from cykloventil.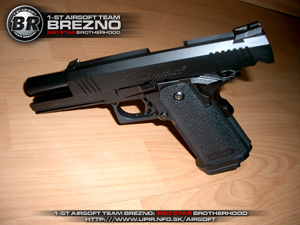 HI-CAPA 4.3 has a single acting mechanism, accordingly, and thus there is no way to dent a trigger. If you don't stretch the weapon before the first shot, shooting will not happen. Stretch drums cock is efective (especially in movies), but if it is not in the chamber a BB, the first shot will be idle. Stretching of slide is one of my favorite activities, at HI-CAPA this is particularly true. Smooth running of slide, pleasant click stretched striking mechanism and smooth reverse of slide with almost metallic sound - it caresses the soul of every airsoft fan.
Shooting itself is BlowBack paradise, fast and powerful digging of slide, pure and faultless operation mechanism, foreign exchange series Hi-CAPA. I was wondering if by 4.3 manufacturer retains the GAS metering system, which ensures high durability GAS, monstrous BlowBack, power stability almost until the last shot and high muzzle velocity. I certainly did not leave disappointed - at meter muzzle velocity I measured the average values of 300, 303 and 306 FPS with BB'sTokyo Marui 0.20g and 274, 275, 278 FPS with BB's Tokyo Marui 0.25g. The measured values are lower than the HI-CAPA 5.1, but a bit higher than the SIG Sauer P226. On one filling of GAS hold the magazin about 75 shells, the power began to fall after 56 shots. In this HI-CAPA series has scaled new heights. All measurements were at a temperature above 22 °C. Power of BlowBack tactical Colt is at the same level as 5.1 and is one of the best on the market. (The holding time of GAS depend on the GAS used and the ambient temperature. In testing I tried two kinds of gases - with classic HFC Green Gas 134a are values as I mentioned above, using the ICS Green Gas with greater extensibility, go holding time rapidly down - to about half. ICS GAS I would recommend to play at lower temperatures - at high summer temperatures may have a gun problem press the GAS valve on the magazine and it may damage the gun.)
For the longest life, we recommend gun after firing gun disassemble, cleane up and grease. Stripping is simple - conclusion of three quarters back from the right to print bolt catch, the slide let go forward. At this stage it is possible to set the Hop-Up slotted wheel under barrel. Next, take out the guide rod with a spring reverse of slide, choose the barrel and you can clean it too. Silicones get used to all the metal parts (especially guide slots slide, contact surfaces, springs etc.) operation slide as clean and smooth as possible. Composition of weapons is in the same sequence, only conversely.
From the measured results show me that HI-CAPA 4.3 is very similar like her older sister HI-CAPA 5.1 and thanks to the egualy dosing the GAS may be able to play with her in colder temperatures.
The accuracy of the new HI-CAPA 4.3 is almost 5.1, shorter barrel four-three admittedly less accurate over longer distances, with a good set Hop-Up in the useful range of the up to 25-30 meters but it is possible with it to achieve very high accuracy.
CONCLUSION
What can I say conclusion? HI-CAPA 4.3 is an excellent BlowBack pistol, with a modern design derived from the sports version of the original concept of the M1911 (eg. STI Tactical 4.15), high levels of processing, high performance and controlled dosage GAS. The black tactical version fits all SWAT players, but also lovers of Colt, or modern weapons. Given the revised piston head I can not see even less troubled O-ring, the infamous five-one, so it's actually a perfect weapon. Read, buy and run!
Technical parameters:
Name: Hi-Capa 4.3
Type: GAS BlowBack
Manufacturer: Tokyo Marui, Japan
Length: 199 mm
Weight: 850 g
Hop-Up: yes, adjustable
BB's: 0.20g, 0.25g
The firing mechanism: single action
Magazine capacity: 28 (+1)
Muzzle velocity: 300, 303, 306 [0.20g], 274, 275, 278 [0.25g] FPS
Optional accessories: tactical flashlight, laser sight
Manufacturer of original:
STI International, Georgetown, Texas, USA
Colt, Hartford, Connecticut, USA
Another photo HI-CAPA 4.3 GBB you can find in section FOTOGALÉRIA on sites 1-st AirSoft Team Brezno [REDSTAR BROTHERHOOD].
UPIR
Comments
So far no comments yet.
Comments can add only logged users. Sign in