What AIRSOFT gave and took
27. 06. 2006
Around May 2004, I saw a first reports that something like airsoft. The fact that it's not just shooting with pistols to BB from the Vietnamese market, as I occasionally saw a brother or boys from the settlement with us running around ...
Then I was on the net friends with a few guys and since we saw each other occasionally (still only in civilian clothes), and sometimes they told me where you experienced the like. I could not help it. I did not mean to be popularly said to be "a fool". So I started to be a little interested in airsoft deeper, I came into contact with the first weapon and I was just so attracted. And I also really wanted to ever experience what my friends.
In autumn 2004 I had the first opportunity to go with a friend's unit at the weekend for them to chat. I remember the first gun I was holding the MK23 SOCOM, and the second - APS 96ka ... It was a great feeling. Right after the weekend, I ran to buy the first fatigues. Arms are, however, while still delayed, not brigade, was not enough money, my parents tolerate it but not posted, and I actually like it ... for it when you earn on weapon clock work yourself, then the more you weigh, and otherwise you treat it, too.
But what I want to say the main thing. It was autumn when I did my first step into the world of airsoft gate, personal world, I began to crumble completely. Death and other bad news and events in my neighborhood. I almost collapsed, but airsoft - and especially those few people I knew at the time, hold me. And thanks to them, I was again recovered. It was only thanks to them I could go on. I started to explore more and more people. Only then I started to have the feeling of fullness and feeling that I had any real friends. And that was what I strapped on Airsoft even more. I wanted to go fast forward and go to different events, and be better and better. Because of airsoft I started working here, and a lot has changed.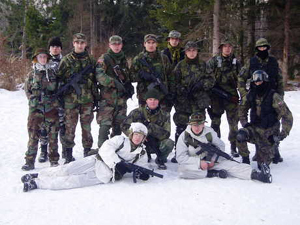 On New Year 2005, I have even found a team in which I sat. But the beginnings were very difficult for me. Just because I'm a girl, so some do not bite and did not believe my real interest in airsoft. But if they knew why, they would understand. Even now, I still occasionally meet people who have some hints to me, but I'm proud and I'm glad.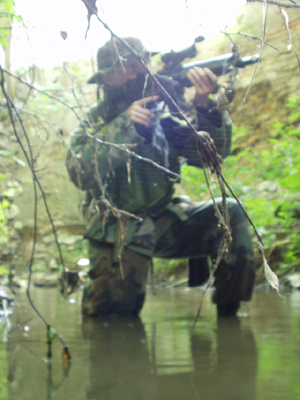 What is now, it would have been a year ago for me unthinkable. This year I also participated in summer training camp, which gave me a lot and, of course, again a lot of new contacts and acquaintances. Airsoft live and the people around are like my family. No, I could not imagine going back. It is true that airsoft, if a lot of it "eats" and you're into him crazy, so it's costing you a lot of time and money, but everything always have to sacrifice something. And I think that when you want something and you do it for, and once you achieve it, what you want and what you dream of. For me, airsoft is currently the only and main hobby and filling and my philosophy and I hope it will remain so for a long time !!! And who says that girls do not airsoft, are terribly wrong - and I think that I and those few who are holding and what rides are living proof!!!
My gun already has a name - name is Charlie, otherwise they call me Chicken :) - I'm happy !!!
Blanka (CZ)
Comments
So far no comments yet.
Comments can add only logged users. Sign in